This is another political post. You've been warned.
I really wish I could vote in this election because there are a few issues that will affect me and I've taken a side on those issues. Unfortunately, I will be turning into a legal adult 42 days too late. Also, I wished I were in some other riding, because our MP is going to stay here until he dies. I mean, he once had the highest margin of victory here. But yes, a few things happened on the way to January 23 that has changed my opinion dramatically.
I remember at the beginning of the election that I thought that the Liberals were going to win, even if a minority. Why? Because the opposition forced an election too early. The Conservatives were still scary, especially after a few attempts to bring down the government before. The NDP just switched sides. And everyone doesn't like the Bloc.
One thing I wasn't expecting was the Liberals to mess up as much as they had. They had a very clear shot at victory again, but one thing after another just made the public's opinion of them plummet. Really, it's amazing how crappy they are at keeping things low profile. As a result, the entire province of Quebec is going Bloc just to spite them and everyone else is going Conservative. Those lefties who got tricked into going Liberal are probably going back to NDP to salvage their pride.
I have two main concerns with this election: Internet and copyright law, and education.
Education was simple. It's either Liberal, with their newly announced education plan and the fact that they never delivered on their last promise on education from last time, or the NDP with lowering tuition 10% and just being the student friendly lefties that they are.
Internet and copyright legislation is something I'm following very closely. I obviously don't want Canada to fall into the trap and emulate the travesty that is the DMCA. So I checked out CIPPIC and was checking back every so often for party responses.
The first question was "Do you agree that we need legislation to protect Canadians from harmful technologies like the Sony-BMG rootkit DRM?" and the Liberals responded with:
The Liberal Party of Canada supports technology that protects digital artistic content and we will continue to work hard to facilitate consensus amongst stakeholders in copyright matters. We introduced a wide ranging piece of copyright legislation in the last Parliamentary session that encourages creativity and protects the rights of creators, while ensuring diffusion of knowledge and access to cultural products.
Wait a second. Read that carefully. Read the question. The question is asking whether the party agrees that Canadians should be protected from the Sony-BMG rootkit. The Liberals respond saying that they support Digital Rights Management. It seems to me that they missed the entire point.
The other day, I was reading Boing Boing when I came across a post about a Canadian MP, Sam Bulte (Parkdale-High Park) who was a steadfast supporter of US-style copyright legislation (think DMCA) and was getting a fundraiser from the recording and publishing industries, to name a few.
Without going any further, does anyone else see the problem here? Here we have an MP supporting harsh copyright protection legislation and the industries that stand to benefit most from that legislation is giving her money. Is it legal? Yes. Does it raise suspicion, especially in a government that has been brought down by a sponsorship scandal? Yes.
Here, we have echoes of what is going on in the States: corporations essentially buying (they call it lobbying) laws. Upon further inspection, it is revealed that Bulte's campaign is the only one to be funded in this manner. Also, it's not only Canadian interests, but those from the States are supporting her as well. What happened to keeping out of our election? What's worse is that she's basically the author of this amendment to the Copyright Act and she's pretty much next in line to become the Minister of Canadian Heritage.
Of course, being posted on Boing Boing and Michael Geist's blog, the story got picked up by blogs all over the Internet. And as with most things that happen on the great big Internets, the mainstream media has picked it up as well. The Canadian Press, CBC, and Toronto Star all have coverage.
The thing to notice here is how Bulte and Henderson, President of CRIA, respond. "I've done nothing illegal." "These people have become my friends." "This is part of the political process."
It seems that everyone but Bulte sees what's wrong with the picture. Either that or she doesn't believe we can put two and two together. If they are your friends and you are responsible for legislation that benefits only them and they raise money for you, isn't it possible that the public will raise some serious questions about your integrity? Let's not forget that the Liberal Party of Canada has not exactly shown itself to be the epitome of integrity, even during the election.
So, in effect, the NDP just won my (useless, since I can't vote yet) support. They haven't screwed up like the Liberals have and I agree with them on many more counts than the Conservatives.
There is much more to the Bulte and copyright story and I encourage you to have a look at the links and links on those sites for more. I will end off with a nifty graphic (as the Internet is full of nifty graphics) from The Adventures of Accordion Guy in the 21st Century.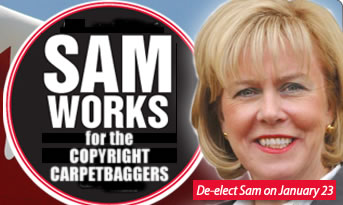 EDIT
This story talks about how the Conservatives are ahead in the polls and features a funny picture of Harper in front of a Quebec flag. A little Inkscape magic and we have the successor to Gilles Duceppe!