I'm not a designer. I know that. During the past two years, I've followed the weblogs of some of the top web designers in the world. What started out as wanting to learn this fancy new XHTML stuff turned into web standards advocacy and a look at the world of graphic design. With regards to graphic design, I've picked up a few tricks to make my work look less like crap. That is the extent of my graphics design prowess.
I decided it'd be interesting to go through how I come up with stuff. I hope that this'll help those of you who just play around with Photoshop filters and don't know anything about design to create something that looks passably decent. This post will go through the birth of the Trail Mix happy face logo.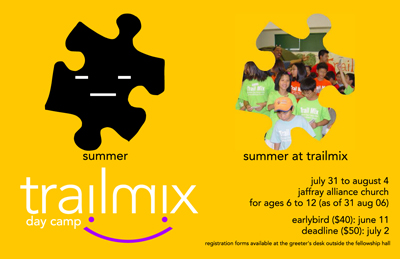 There were some interesting specifications for the logo. Since the church wanted to make this look nice, I was allowed to use colour in the posters, and thus, the logo as well. However, since the poster would also be used as a flyer for the church, it would also need to look decent in grayscale, photocopied. Finally, the logo was to be used on shirts as well, so the logo had to both scale well and look decent in colour and black and white.
The first thing I do before anything else is choosing a font. Those who know me know about my dealings with type. For a logo that consists of mostly words, choosing a font is important because it sets the character of the text. There are tons of examples of how poor type can ruin anything with a substantial amount of text, from posters and cards to books and academic papers.
Since Trail Mix is a kids' day camp, the font had to be friendly. The usual choice for something like this would be some kiddy and overly nauseating, awful typeface like Comic Sans. Obviously, I refused to go down this path. Kid's fonts are not the automatic solution to designing for kids. It might be a bit harder, but it's not impossible to design something decent for kids using normal typefaces. Even though they may appeal to kids, those kinds of fonts betray a lack of professionalism and good taste that may affect the kids' parents.
I chose to go with Avenir. Avenir is a humanist sans serif typeface. Obviously, serif faces look way too formal for something for children, although I did use it for a flyer advertising something for children's ministry helpers, but that was offset by a pile of Lego bricks, and everyone knows that kids love Lego. Also, humanist faces are more natural and less plain and cold than the other types of sans serif faces.
Avenir is used for everything that has to do with Trail Mix (or at least, everything that I had to do with Trail Mix). The rest of the poster is also set in Avenir. And to my great satisfaction, the back of the shirts, denoting STAFF or 1/2 STAFF were set in a heavier Avenir, which remained unstretched, as an inexplicable number of people are want to do.
The next challenge after setting the right type was figuring out how to change the logo from "trail mix" set in Avenir to a logo. Since the logo was to be printed in both colour and black and white, the logo's shape was much more important. If you look closely, you'll notice that the i's are actually upside down! Yes, the dots of the eyes form the happy face. This was inspired by the "mix" in Trail Mix. In addition to that, I decided that reversing the letters in "mix" would help. Unfortunately, only the m got reversed, as x and i are both symmetrical.
The first challenging part was choosing colours. I hadn't really had any chances to design with colour seriously, since everything I'd done was in grayscale for photocopying. I knew that I wanted to restrict myself to two colours; the problem was which ones to take. My thinking lead to something to do with real trail mix, the stuff with nuts and raisins. I tried using my eyedropper on a few photos of it, but the brown was fairly unappealing.
The raisins were easier. While raisins may be black in real life, everyone knows that deep down inside, they're purple. I set the happy face to be purple, because I knew that I wanted it to stand out compared to the rest of the piece. The purple gave me the next idea as well. As we all learned from primary school, yellow is the opposite of purple. This is nice, because yellow is sort of how the brown nuts look in contrast to the purple raisins, as well as being a generally happy and sunny colour, like summer! Symbolism! It also helps make the purple stand out even more.
That basically covers the logo portion. However, there is one last bit of interestingness on the poster itself. You'll notice that there are puzzle pieces and one of them has a face. Well the face was drawn from the idea of the happy face. Summer is boring. But Trail Mix is happy! Good old ASCII face representations! And the puzzle pieces are symbolic of the puzzle pieces that are used in our church's children's ministry. Colourful foam puzzle pieces are put together as a safe area to sit on and run around in on the floor.
I am really pleased with how the poster came out. I am also pleased with how the logo has endured, unlike so many other projects. It captures the fun that is had at Trail Mix quite well.