After much procrastination, the promised next post in the series about worship slide design is here! The first thing we're going to look into can be one of the more noticeable things about your slides. While a lot of decisions you'll have to make are more subtle, such as the relationship between type sizes or where you decide to break of screens of text, colours and backgrounds are things that most people see immediately.
Colour
Colour choices dictate two things: readability and visual appeal. The chief concern should be for readability. That is the purpose for worship slides: to display lyrics for the congregation to read. Anything that diminishes that for any reason is bad. If your slides are hard to read because they suck, then learn and get better so you can offer your best for worship. If your slides are hard to read because you think that they're prettier the way you have them right now, then you need to reevaluate why you're doing this and what purpose your work is supposed to serve.
Some basic colour theory is nice to know. I'm not going to go through it here, since Wikipedia and Google can provide pretty much what you need to know. At the very least, you should be able to tell if a colour is too dark or light to be seen against your background. The most basic slide setup you can come up with is white on black.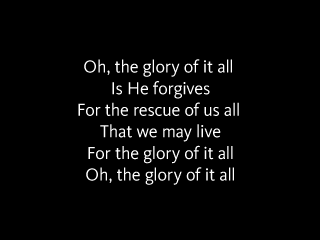 The other obvious choice is black on white. However, this isn't such a good setup. The main difference between black on white and white on black is the readability. First, we should remember the setting that we've placed ourselves in. We're displaying lyrics on a giant screen. Generally, each slide should not have an enormous amount of text. Thus, we should have plenty of space to work with and so a light on dark scheme will work better than a dark on light. With the amount of space that isn't taken up by text, using a light background will create a sort of overwhelming brightness whenever someone tries to read it.
Now that we've established a basic starting point, we can take it and make it snazzier. Something I've tried and done a few times is add a slight gradient, which adds some depth to the background.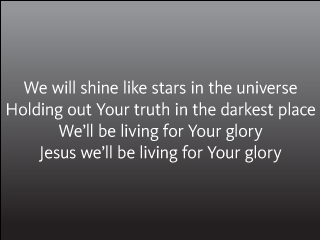 You can also try some other colours in the background.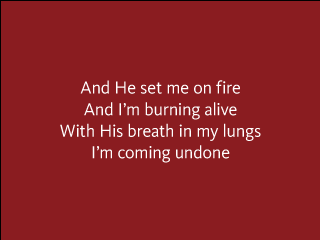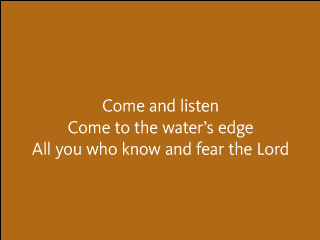 Or have a shot at having colours and gradients.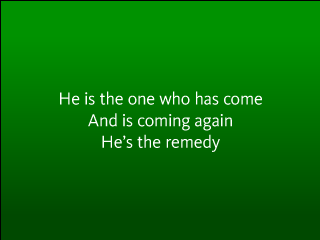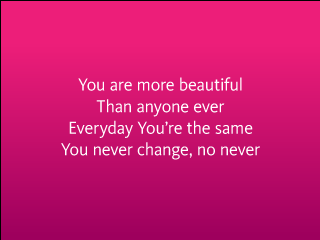 Of course, it is possible to make things that don't look good using this approach.
The key to keeping things looking good is simple and quite noticeable. Try and keep gradients reduced to changing to colours in the same neighbourhood.
Remember that colour is one of the ways that you can set a general mood. Keep this in mind when you're making slides for a set. Knowing this, you use suitable colours for various themes that the worship leader might be trying to convey through the set. Something that I just thought of that would be cool is if there was a slow, slight change of colour throughout the set, like a gradient, except the colour variation would be through time as opposed to a physical dimension.
Anyhow, never forget to make sure that the contrast remains high. Readability should never be sacrificed. Reading always comes first, as that's the purpose of the slides. Cool things that add to the mood are secondary. If you are making the slides, you should be able to do both.
So, with a few simple steps, we can ensure that the slides that we make aren't huge pains to read. We also know how to make things a bit more bright and different and do it, again, without making things impossible to read. So the obvious next step is backgrounds that involve pictures. These open up a series of new challenges that I'll be talking about in my next post in the series.